I'm sorry it's been so long! I can't believe it's January 10th already, and I haven't even wished you all a Happy New Year yet! So, HAPPY NEW YEAR!!
I took a bit of a break from blogging, facebook, and my etsy shop over the holidays. We spent 10 days out in Western Nebraska with my family over Christmas, and it was wonderful. Tiring, but wonderful! (I have a BIG family!) Since I've been home I've been a bit under the weather, and have also been tending to all the un-fun stuff that comes with Christmas.....the un-decorating. LOVE to put it up. HATE to take it down. I mean, I was
ready
for it to come down, I just don't enjoy that. Does anyone, really?? Now I'm in the process of ANOTHER studio reorganization. I'll tell you more about that later. First, let's look at something cute!
Valentine's Day is
just around the corner!
I know some people claim that this is just a made-up holiday. That it is all just a big conspiracy by Hallmark, florists and the chocolate companies to grab a bit of your hard-earned money. But some people find it very romantic, and they celebrate it willingly. Not with just cards and candy, but with special little gifts. Tokens of their love. I think those of you who enjoy this fun little holiday mid-February will appreciate this:
The Key to My Heart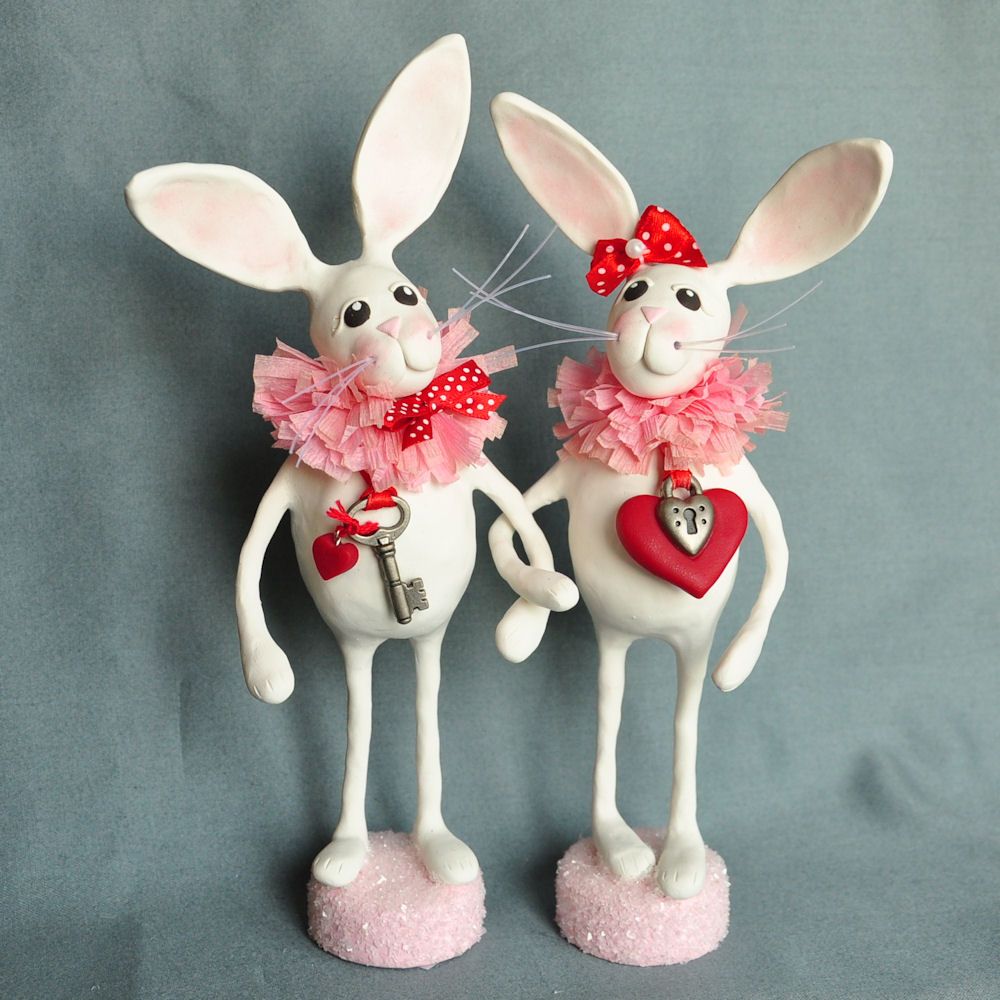 This pair of adorable love bunnies are ready for their romantic date on Valentine's Day. Each is dressed in a fluffy, pink crepe paper collar. Her big red clay heart is accented with a tiny pewter metal lock. He holds the key that fits. They make a perfect pair! They can be displayed separately, or with their arms linked as shown.
This cute couple will be available this afternoon
here
, on my Pfatt Marketplace page, along with a darling cupid and a very dapper snowman. Go check it out! And be sure you take a look around at the other wonderful artists featured on Pfatt.
Have a LOVELY day!
Lisa